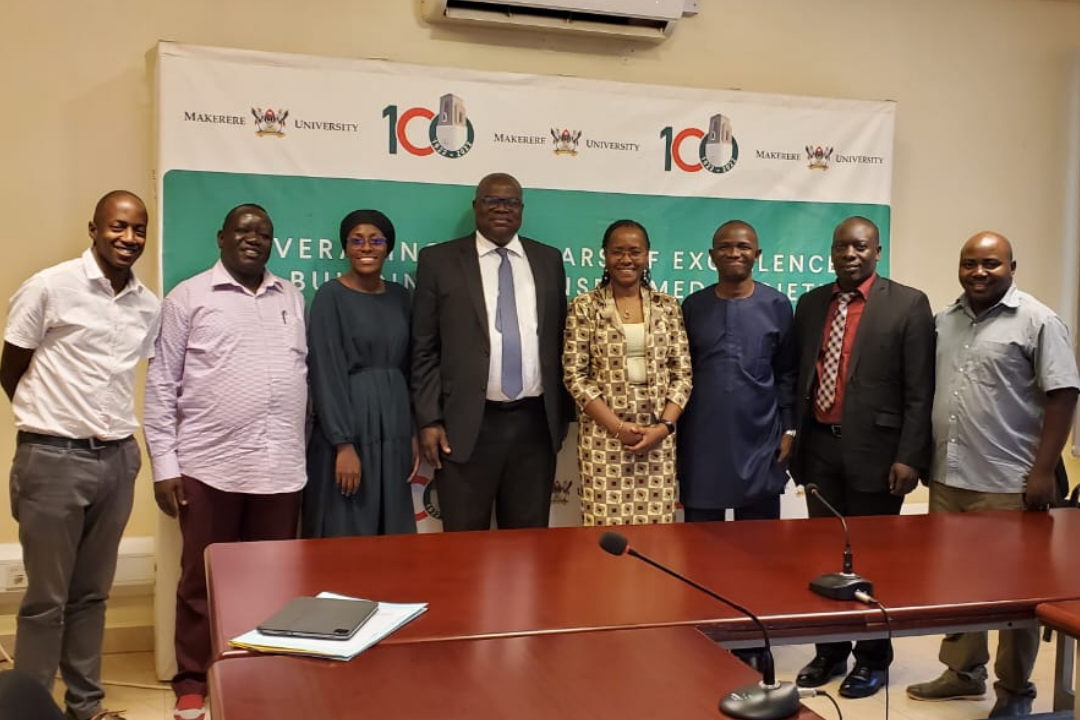 [Prof. Ernest Aryeetey (4th left), Prof. Sarah Ssali (4th right) ]
On the 2nd of this September 2022, Prof Ernest Aryeetey, the ARUA Secretary General paid a courtesy call to Makerere University. He was welcomed to the University by the Vice Chancellor Prof. Barnabas Nawangwe. During his visit, the ARUA CoE Identities was privileged to hold a meeting with him. Before meeting the CoE, he earlier addressed a wider Makerere University academic community representatives in the Makerere University Senate including deans of schools and other senior University staff. The address focused on topics such as the EU-AU Innovation agenda, ARUA Strategic plan and the proposed decentralization of ARUA among others.
The ARUA CoE meeting was attended by CoE Secretariat including the Director; representatives from the CoE's Steering Committee and other researchers under the CoE. The meeting sought to check on the progress of the CoE since its launch in 2019. During the meeting, the ARUA CoE Identities Director made presentations of CoE's progress challenges and future plans.
The ARUA CoE Identities team also showed gratitude to ARUA for the impact the umbrella is having on African researchers through improving their accessibility to grants' funding and Capacity building fellowships for Early Career Researchers. It was during this meeting that the Early Career Researchers under the ARUA- Carnegie Fellowship programme conveyed to the Secretary General that the programme is very effective and it would be great if it continued. The CoE received guidance and rich ideas from Prof. Aryeetey on interesting themes to collaboratively develop projects on with CoE partners.